Pats Ink 2023 Third-Round Pick Cameron Kuzma
---
---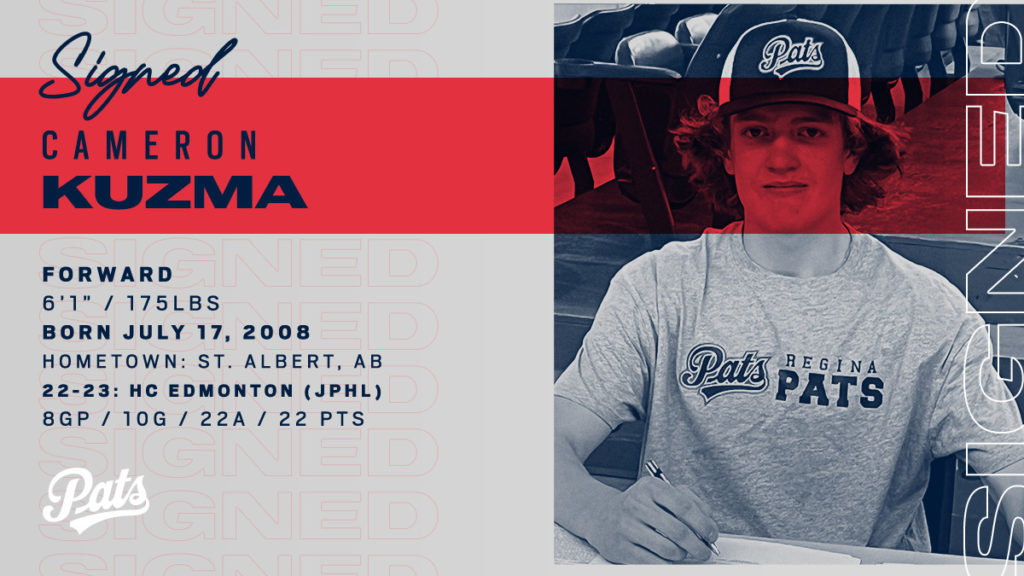 ---
FROM REGINAPATS.COM
Regina, Sask. - The Regina Pats are pleased to announce the signing of 2008-born forward Cameron Kuzma to a WHL Scholarship and Development Agreement.
"He's a big body player and he has a chance to stretch some more," Regina Pats Director of Scouting Dale McMullin said. "He's got a good feel for the game, a good set of hands and can make plays. I really believe in time like all of them, if he does his part, he has a chance to be a top-6 player with his growth projection and the skill level that he carries."
Kuzma, 14, played for two different programs during the 2022-23 season, beginning the season with the Delta Hockey Academy and finishing it with HC Edmonton. The 6-foot-1, 175 lb. left-shot forward recorded 16 points (4G-12A) in 11 games with Delta's U15 team before adding 22 points (10G-12A) in just eight games with HC Edmonton's U15 club. The St. Albert, Alta. product played the 2021-22 season with the Eagles Hockey Academy, scoring 86 points (52G-34A) in 30 contests.
"He has the ability to score goals," McMullin added. "He shoots the puck hard; he has good mechanics when he shoots the puck, he's got good strength and I think he skates well. He's just a player who we project can be a top-6 player if he wants it."
Kuzma grew up playing in the St. Albert Minor Hockey Association, which has produced the likes of Jarome Iginla, Matthew Savoie, Zack Ostapchuk and former Pats defenceman Josh Mahura.
The Regina Pats organization would like to officially welcome Cameron and his family to the Pats and to the City of Regina.